Military Order of the Cootie Pup Tent 32

Our Pup Tent 32 meets the 2nd Sunday of the month at 7:00 p.m.

The MOC PupTent 32 & MOCA 32 will meet Sunday, September 10, 2017.

Our Hospital visits are on the 3rd Monday of every month at the Saginaw, MI Veterans Administration Hospital.

MOC GRAND OF MICHIGAN C/A  TBA

Pup Tent TBA Hosting  8:30 am for the Grand Convention

@ VFW Post TBA

TBA

Click on MOC, GRAND OF MICHIGAN for more!

Welcome to the Website!  You found it!

New Home for MOC, Grand of Michigan Website

As you can see we are just starting out.  Hopefully we will be active soon.  So, for now this site is ALWAYS <Under Construction.>  Browse through the pages.  New information will be added as it is available.  Any Comments or Questions should be passed on by mail or email.  Please feel free to contribute.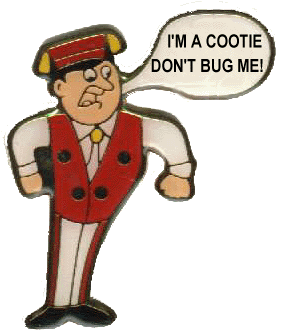 This page was last updated on: December 9, 2017
This page was last updated on: December 9, 2017
CARABOA  MOC Pup Tent 32 Shavetails for 2015 - 2016

SS

William Austin
BB

Greg Young
HG

Patric Henderson
CCDB

  Sam Elston
SP  Mike Bayne            

JL  Gerald Skinner  

UNDER CONSTRUCTION>  The rest of the seams are being repaired always.

C of A 27 JANUARY 2018 PT 14 HOSTING will be in Grand Rapids, MI at the Boat & Canoe Club, American Legion 401 North Park Street. NE Grand Rapids, MI.   Phone Number 616-361-7685.  Audit at 11:00 AM, Lunch 12:00 Noon, and C of A 13:00.  The Boat and Canoe Club is on the Grand River next to the North Park Bridge.  Any question please contact PGC Earl Tefft at 616-696-3389. 

MOC & MOCA GRAND OF MICHIGAN CONVENTION

Saturday, JUNE 2018  VFW Post 3243 1148 N Leroy St  FENTON, MI

Hotel Reservations:  TBA

KING STANDARD $TBA  +11% TAXES (8 ROOMS)

DOUBLE QUENN STANDARD $TBA + 11% TAXES (5 ROOMS)

EXECUTIVE KING SUITE $TBA + 11% TAXES (2 ROOMS)

RESERVATIONS BY:   TBA

Fairfield Inn & Suites Fenton

3125 West Silver Lake Rd

Fenton, MI  48430

Phone:  (810) 629-0400  "Cooties"