Newsletter

Whats Happening!

This page was last updated on: December 9, 2017
Listen Up Cooties

Past Grand Commander MOC Michigan

June 2003 to June 2004

  We need leadership in our ranks.  Bring this about in this coming year.  Vote your leaders into the pup tents and give them the support you have elected them to.  And to the new leaders, pick cooties who will do the chaimanships and appointments you make.  If your Pup Tent needs help, ask for it.  Never give up!  If you have been recruiting new VFW members, and inviting new cooties into your pup tent this year you have great talent to choose from.  If you have not been supporting the VFW with new membership and inviting new cooties into the pup tent you have really let us down.  Pup Tents should grow with the new membership along with the VFW Posts in your area.  Enough!

Ernest A Paulin, Past Grand Commander 2003-04, Current Grand Quartermaster

Are you ready to really do something?

The new year is going to start soon!  The Grand Scratch will be over May 20th, 2017.  Are you ready to volunteer?  Contact me by email, letter carrier or phone.  No matter how little you can give will be alot more than most.  Please contact me soon.

Ernest A. Paulin                                        Phone (810) 735-7920

710 Aldrich St                                            email: erniepaulin@aol.com

Linden, MI  48451-9050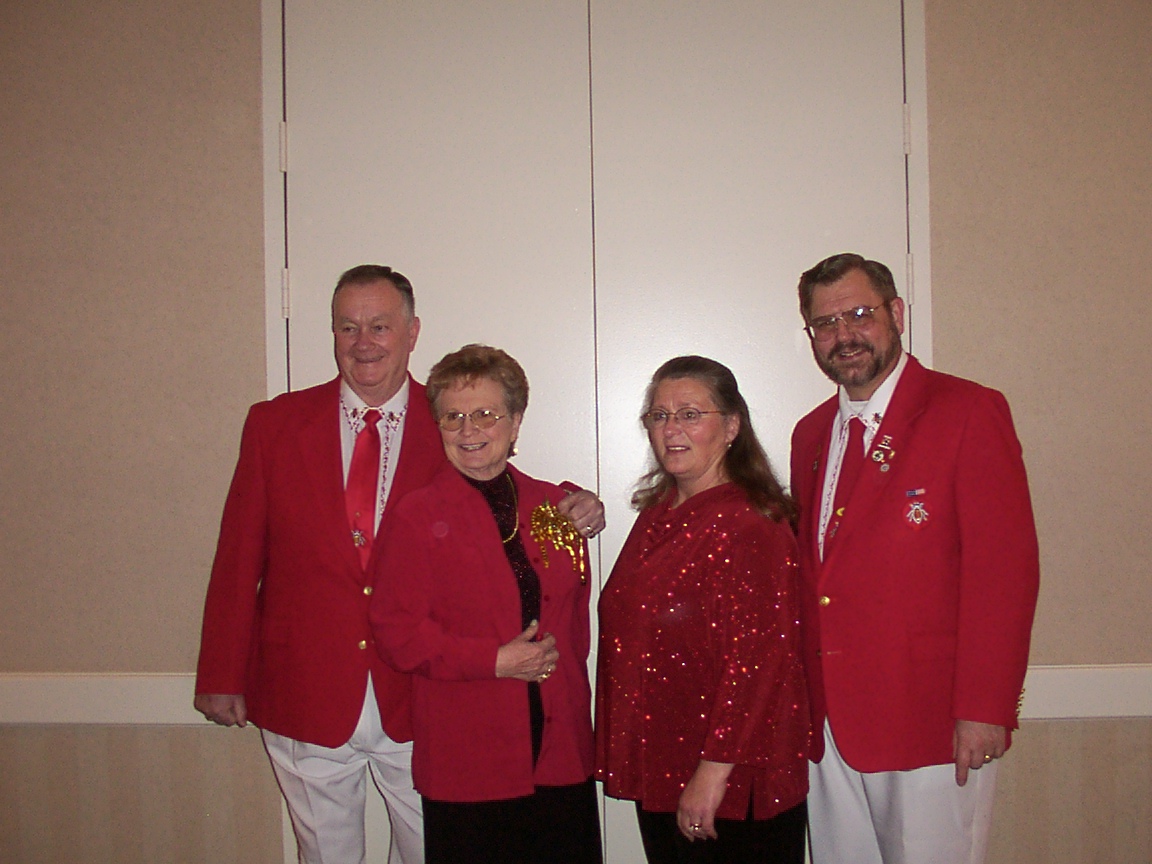 Past SS Odis Matney & Pat with Sharon & GC Ernie Paulin

.TAPS

Pup Tent CCDB will notify Grand of Michigan QM of all TAPS Notices.

MOC Pup Tent 32 Caraboa

William Austin, SS 2017-2018

Fellow Nits!  December 10, 2017 Our next Scratch 7:00 pm.!!!  Holiday Bring a dish to pass!  SS will provide Ham??

All members of this Pup Tent please attend.  Our Pup Tent is growing.  Our Cooties have a lousy time of fun and frolic at each scratch.

All Continuous Member Cooties are reminded to send in their annual dues ($25.00) at this time.  Pay your Post  VFW dues first.

Please remember our comrades at the VA Hospitals.  Our visits are scheduled for the 3rd Monday of every month, it means so much to them.  We can not forget our National Home.  We support two major programs with the home, the Christmas Party and their trip to Cedar Point in Sandusky, Ohio.  Any & all donations to support our VFW National Home for Children are welcome.

Women's Auxiliary to Pup Tent 32

Meetings are 2nd Sunday of every month also.  7:00 pm

C of A 27 JANUARY 2018 PT 14 HOSTING will be in Grand Rapids, MI at the Boat & Canoe Club, American Legion 401 North Park Street. NE Grand Rapids, MI.   Phone Number 616-361-7685.  Audit at 11:00 AM, Lunch 12:00 Noon, and C of A 13:00.  The Boat and Canoe Club is on the Grand River next to the North Park Bridge.  Any question please contact PGC Earl Tefft at 616-696-3389.